So here are some details of my work:
matrials I used are Styreen and MDF woodfiber board, some parts will be made once, and copied in a silicone mould and casted multiple times in polyurethane resin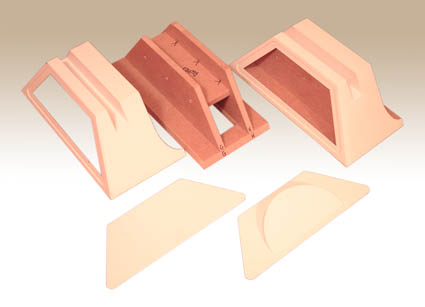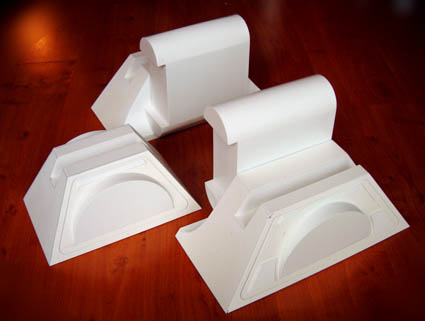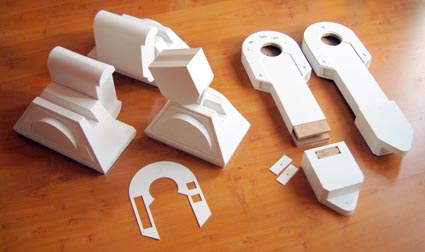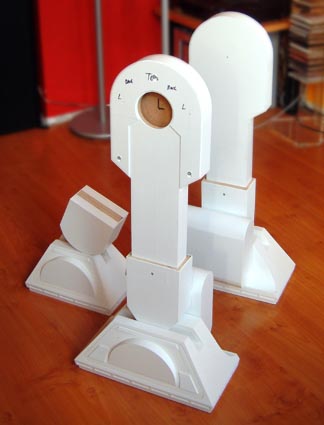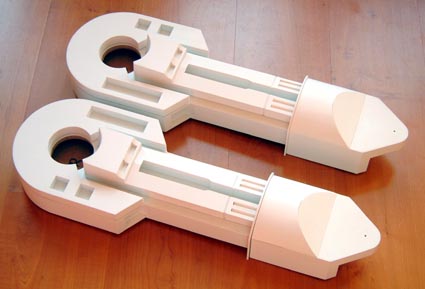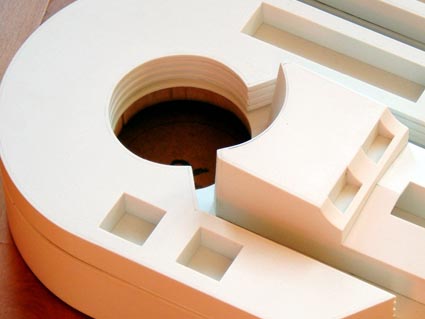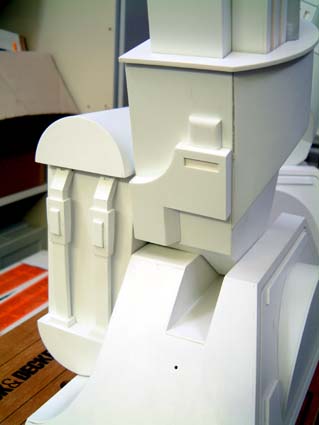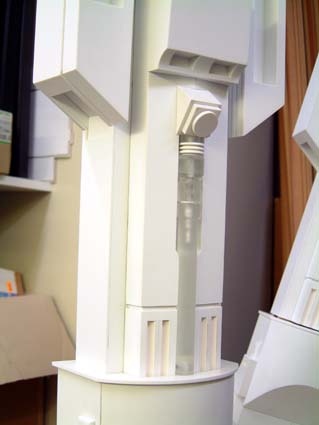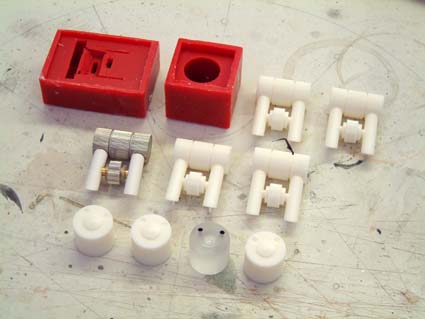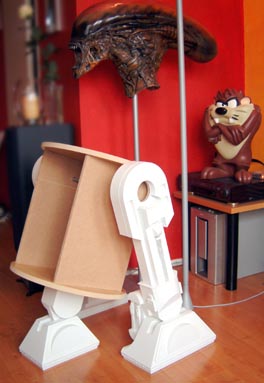 Let ther be feet, not bad after two days of work, I just took the old Jag drawings and made flatpack drawings on paper and used those as templates for cutting the 2mm styreen, the inner feet construction was later changed as it was motorised.
Made removable battery boxes hollow ( 1mm with 3mm substructure ) so they would have enough room to house part of the motors, and further detailed the feet, all the side panels can be removed to reach the 10mm steel pivot pin and wheels.
feet are finished and started with the legs made up of a hollow MDF core and finished with styreen to get a smooth surface, and also started with the horse shoe part on the legs.
Finished the shoulder, ankles and ankle ring, and made some progress on the
booster covers,
the shoulder and booster covers are attached with keyholes so can be easily be removed, the ankles are attached with 5 big screws and covers with a small styreen plate.
you see that the styreen can be cut with crisp and sharp corners, the ribs on the inside of the shoulder horse shoes are made with 1,5X2mm
Evergreen
strips, stuck on the inside to mimic the layers.
just a quick setup to see how big this sucker is really becoming :).
I'm now working on r2 for six weeks now and I must say, I'm really enjoying myself, and haven't run into any major problems......yet !!!.
I finished the battery clips, ankle details and the booster covers, and going to start on the Shoulder hubs and give some thought on how I'm goint to connect the legs to the body ???.
finished the legstruts inside the booster covers, they were tricky to do as I don't have a lathe, so I used rods in several diameters and styeen rings, and attached all the loose parts with glue and screws, also the strut is attached to the Booster cover with screws for easy removal.
17-11-2002
I've started on some under the shoulder details, made from tv cable plugs, brass rods and styreen rods.
the shoulder buttons are made from rods close enough to the right diameter, and made moulds from those parts and casted in resin.
20-11-2001
I just couldn't wait any longer and started on the basic shape of the body, so I can test fit the legs.
and for the legs to body attachment I decided to go with steel table legs, they have a flat flange welded to the round leg, and makes a sturdy solution, the legs are interconnected in the middle so the legs alwas line up to each other.